As you and your loved ones embark on adventures traveling or are heading out of town on a business trip, it can be tough to stick to healthy eating habits compared to your time at home. But, eating healthy while traveling can be done with a little planning. Plus, it'll give you the energy you need to fully enjoy your vacation and/or the fuel you need to get through a work conference or meetings! To help you out, we have some tips to avoid overindulging while traveling with the help of a few healthy meals and snacks.
Eat a protein-rich, filling breakfast to start the day
Eating a balanced breakfast can help set you up to make healthy decisions for the rest of the day: you'll feel energetic and satisfied, and you'll be less likely to overeat later. To start your day, eat a breakfast with protein, good carbs, and fiber. Some of our favorite breakfasts include Baked oatmeal with cardamom, pistachio & rose, whole grain toast with almond butter, healthy cereal with milk, or eggs any way you like them: scrambled, hard-boiled, over easy, or in an omelet.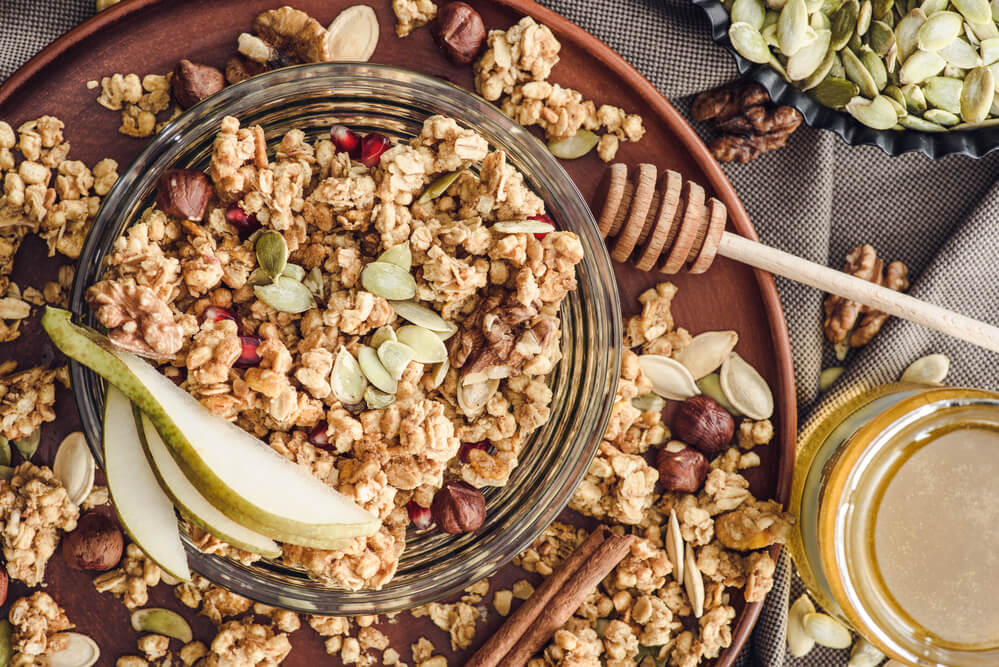 Have healthy snacks on hand for a boost of energy
If you're doing a lot of walking or intense activities while traveling, make sure you have lots of healthy snacks to stay on track. Pack a lot of non-perishable snacks that are TSA-approved if you're flying, like Whole grain zucchini muffins with pineapple, granola, mixed nuts, healthy crackers, and popcorn. If you'd rather not worry about packing a lot of snacks, especially if you're traveling with several people, visit a local supermarket when you arrive at your destination and stock up there.
To make sure you choose healthy snacks, keep them easily accessible in your bag and whereyou're staying while on vacation. Keep fruits and other healthy snacks on a kitchen counter or table, so they're easy to grab while on the go.
Pack a reusable water bottle to make sure you stay hydrated
While packing healthy snacks is a good idea while traveling, it's just as important to stay hydrated if you plan on being active during your vacation. Bring along an empty water bottle that you can fill up at your airport after passing security checks. You can fill up your water bottle nearly anywhere you may need to while on vacation: at your hotel, in popular tourist spots, public water fountains, and more. You can even ask your servers at restaurants or cafes to fill it up for you.
Choose restaurants with healthy meals ahead of time
One of the most satisfying parts of traveling is experiencing the local culture's food. To keep eating healthy while on vacation, just take a little extra time to research nearby restaurants with healthy food options. You're less likely to get overwhelmed and choose a more decadent restaurant instead.
This doesn't mean you need to restrict yourself to a small part of the menu when you're dining out, either. If you're not sure how healthy the local dishes are, make sure to pick meals that come with lots of vegetables or side salads. Also, most restaurants make it easy for you to request small modifications, like swapping lettuce for burger buns or putting unhealthy sauces on the side.
Stock up on healthy options with our store locator
With a little foresight and preparation, eating healthy on vacation can easily be done. To make sure you have milk on hand for a healthy breakfast or snack, check out our store locator to find a2 Milk™ where your vacation in Canada takes you!