It's no secret that the last couple of years of social distancing has wreaked havoc on our social lives. Now that the world has opened back up, one thing is abundantly clear: we can have people over again. And that means dinner parties!
The secret to the perfect dinner party is planning. After you compile your guest list and determine the theme, it's time to decide on the menu. And we've got you covered with a dinner party recipe roundup to please any palette.
Keep reading to discover 18 easy-peasy recipes to make your dinner party a success.
Appetizers and Aperitifs
When your guests first arrive, they've likely abstained from eating in preparation for the meal. After they've removed their shoes and hung their coats, lead them to an area to grab some light bites and drinks.
First up, you can't go wrong with simple appetizers that are both delicious and refreshing, just like in these recipes. You'll get more flavor depth and control over the nutrition of your ingredients with these homemade options:
Aperitifs are no-to-low-alcoholic beverages that cleanse the pallet before dinner. If you have more substantial alcohol options, ensure that you have appetizers that include bread or something fatty for balance. We have you covered, from cocktails to coffees to fruity beverages.
Entrees and Side Dishes
While the atmosphere and conversation are the night's highlights, the entree is the star of the show. The best way to ensure you nail it is to keep things simple. New recipes are a lot of fun to try, but you'll want to avoid becoming too ambitious. First, choose 'doable' recipes that aren't entirely new. Some unique aspects are okay, but you may need to try something else if you have to look up every ingredient. Second, do as much of the work the day before as possible.
Luckily, these recipes are both easy and delicious and give guests the impression you've been in the kitchen for hours:
7. Casual and classic Pancake Snack Board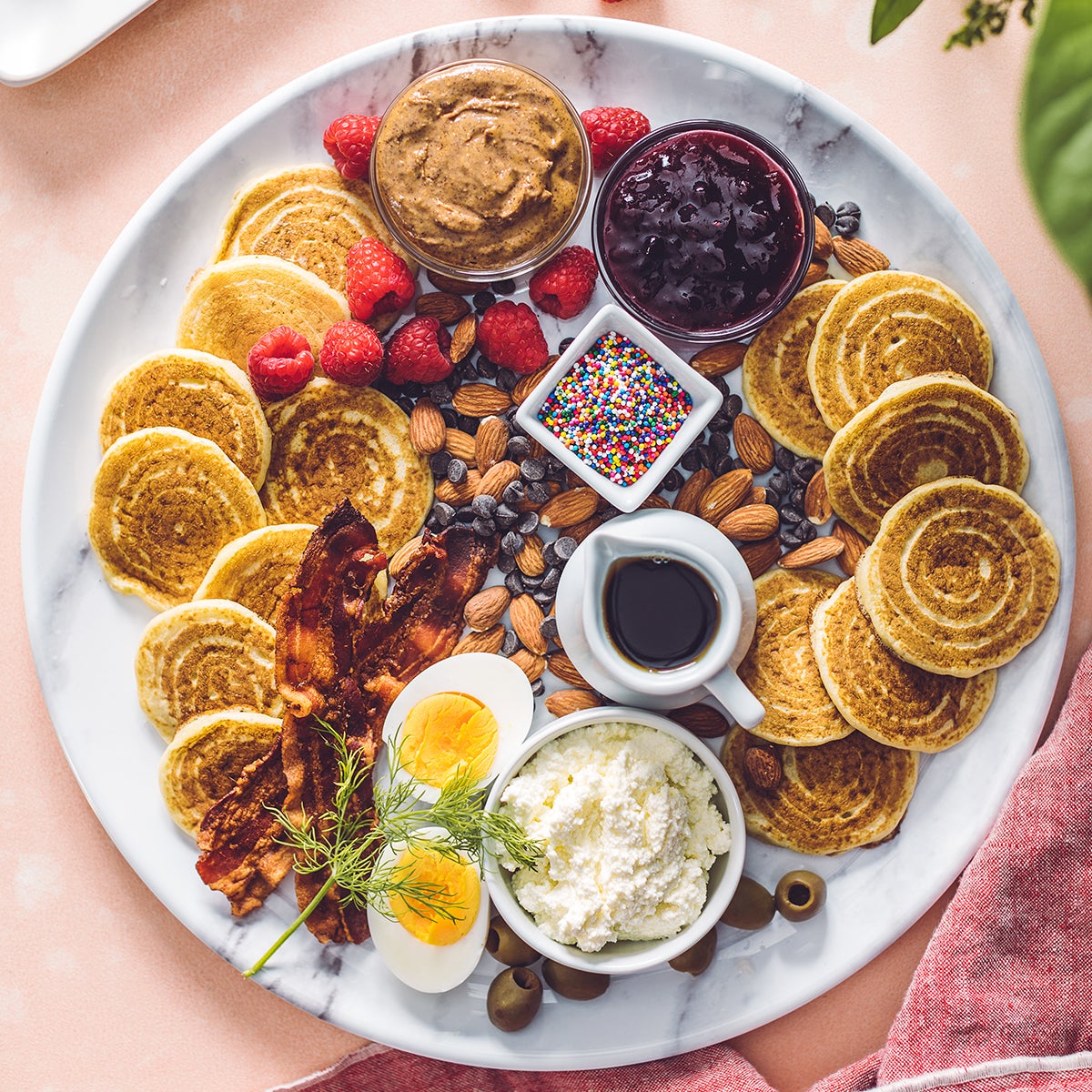 8. Yummy, Creamy chicken pot pie
9. Salty and savory Linguini with peas, prosciutto, and lemon cream sauce
10. Deliciously Creamy Chicken Pasta Bake with Broccoli and Romanesco
11. Simple Mushroom Wild Rice Soup
12. Bursting with flavor Roasted Broccoli and Cauliflower Steaks with Tahini
Dessert
After dinner has settled a bit, it's time for dessert. Depending on your main course, your dessert can be as light or decadent as you want. If your guests have just finished a large helping of pot roast, they're unlikely to stomach a heavy dessert. These recipes are all crowd-pleasers.
13. Sweet and tasty Chocolate Glazed Mini Donuts
14. Refreshing Key Lime Custard Cups
15. Delectable and luscious Tri Fold Crepes with Berries and Crème Anglaise
16. Scrumptious No Bake Chocolate Eclair Cake
17. A mouthwatering Coconut Crepe Cake
Don't forget to offer your guests plenty of non-alcoholic beverages. This hot chocolate recipe is simple, and a total hit.
Dinner parties are an essential bonding experience for family and friends, new and old. Celebrations are grand, but you never need a reason to show someone you love and appreciate them. And what better way to do that than by making them dinner? Remember to plan, consider your guests' lifestyles, and grab a2 Milk™ from a grocer near you. Your tummy will be glad you did.